When I was planning my year in Australia there was one thing I really wanted to do and that was learning how to surf. Because let's be honest when you think about Australia you probably think of the beautiful beaches and the surfers.  Surf Camp Australia

I did some research and I heard a lot of good stuff about Surf Camp Australia by Rip Curl so I decided to do this with my friend Celeste who I met in my first week.
But because I was backpacking I thought the camp was a bit expensive but Celeste convinced me I have to say it is totally worth it. Besides lessons you will get lots of amazing food, photos (online), video (online), a $20 voucher for Rip Curl, a t-shirt and cap from Rip Curl.
You can choose between a 2-day, 3-day, 5-day, 7-day and 10-day camp. I wanted to really learn how to surf so I choose the 5-day surf camp.
Here is a little info what we did those 5 days:
Surf camp always starts on a Monday so the bus picked us up at 9 am at our hostel. After a 2-hour drive we arrived at 7-mile beach, Gerroa, south of Sydney.
We got an introduction about the week, they told us about the rules, had some lunch and after that we went on our first surfing lesson. We were divided into groups and got our instructors. Our instructors were young, fun and they explained everything very good. You could see they did it with passion.
After our first lesson we went back to camp, freshened up and had a famous Australian BBQ!
You have no idea how intense surfing is so we didn't do much after dinner. So Celeste and I decided to go to bed pretty early and also because breakfast was at 7 am!
Our schedule for the day.
Learning the basics.
Stretching
Learning how to get up on a surfboard.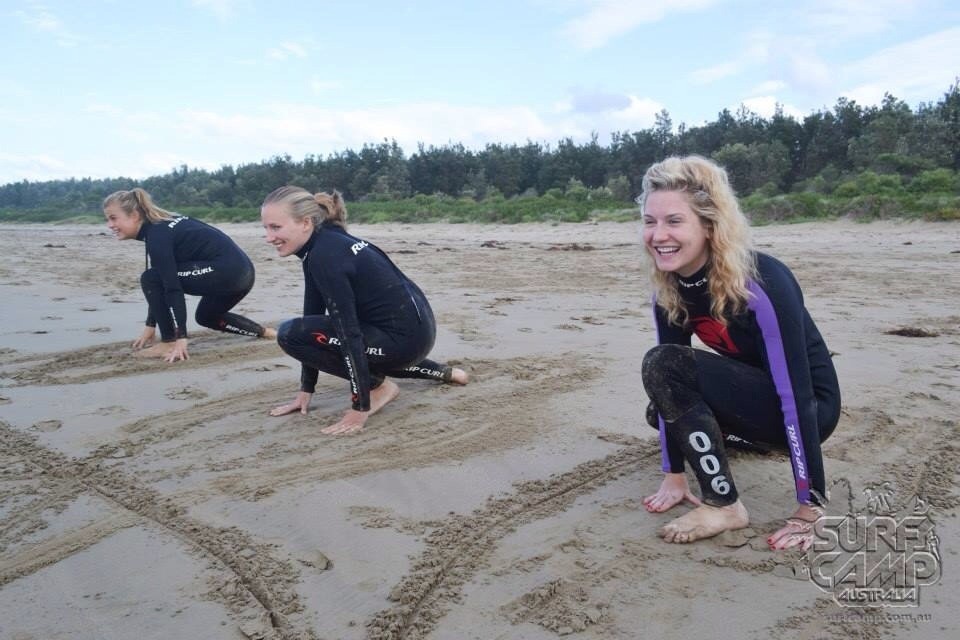 The next day we had to get up at 6.30 am and were in the water at 8.30 am! At the end of the evening they showed us a video they took from that day.
Wednesday and Thursday were the same routine. Get up, have breakfast, surf, lunch, surf and pass out until dinner. Every evening they showed us a video and pictures they took of that day.
They also explained us the basics of surfing like what NOT to do when we go surfing on our own and other stuff. They told us about different waves and showed us a video of them in action. Which was nice to see!
Amazing food!
1,2,3
BREAK!
Friday we had to get up really early so all the groups could go surf one last time because we had to leave camp at 2pm. Not many people went but Celeste and I did!
We had some pretty good waves, which was nice because on Thursday there weren't much waves. After a while the instructors were also surfing so that was nice to see!
I had a great experience with Surf Camp Australia and I would recommend it to anyone who wants to learn how to surf.
One of our instructors

My instructor, haha.
The view
Finally standing and I have proof!
Videos:
Tuesday
Wednesday
Thursday
Friday, week recap
Do you surf or have you ever tried it? Did you like it?
Surf Camp Australia
As you can see most of the pictures are from Surf Camp Australia. I take no credit.