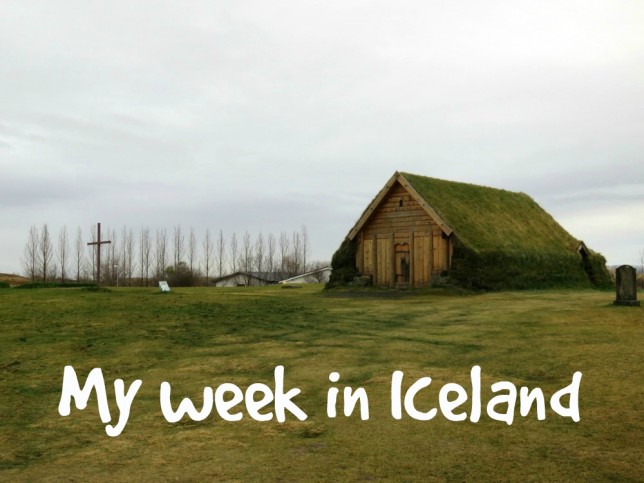 I am already a week from home! Time flies when you are having fun! 😉
Right now I am in Bellingham (USA) staying with two friends I have met while traveling.
The plan now is to relax and explore Bellingham, Seattle and everything around it.
I will be traveling to Vancouver on November 15th if everything goes as planned. If not, then we will see what happens :).
I will try to post a little update every week or so about my life and everything I have done. Just a bit more personal, so if you don't care about this then just look at the pictures or skip the whole post. I won't judge! 😉
But here is my first week on the road. First stop Iceland!
Iceland
Day 1
On Sunday my mom and the little ones were so kind to drop me off at the airport. We walked around, had lunch and then it was time to say goodbye


Look at those faces! 🙁
After having a 1,5 hour delay I took a Gray Line bus, that I had pre-booked, to the Blue Lagoon. I arrived around 6pm and was so happy to see that there was no line!
I read everywhere that even though you have pre-booked you still had to wait in line. Sometimes for over an hour!
When I checked in I got a bracelet and the lady explained that I had to use that for my locker and for anything else I was planning on buying at the Blue Lagoon.
It got dark pretty quick so I enjoyed the water. The water was really nice and you could also use mud, that you could use for free, to put on your face. I tried and washed it off pretty quick because it was burning my face! Same with the water but that's because my face is really sensitive lately. So I would recommend avoiding this if you have the same problem!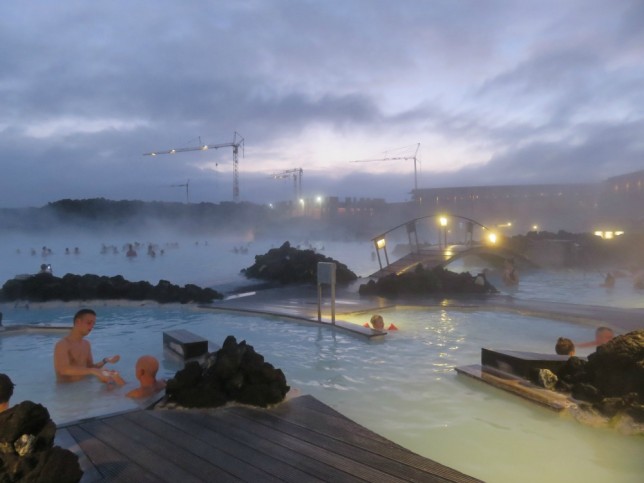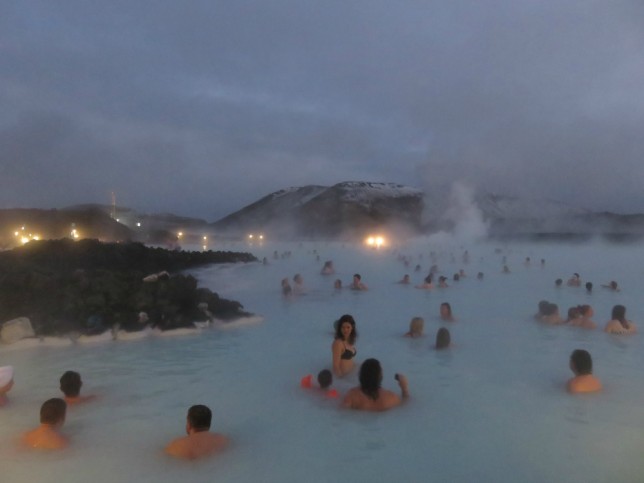 At 9pm the bus picked me up and dropped me off at the Guesthouse I was staying.
I stayed at the Gestinn Guesthouse and it was just perfect!
Super clean, quite, friendly owners, central and the next morning I could enjoy a nice breakfast.
Ones I was all settled in I fell asleep right away!
Day 2
On Monday I had planned on exploring Reykjavik and the blue skies were perfect for that day.
First I wanted to book a hop on hop off bus but after looking up where everything was I decided to just walk to everywhere and good thing I did because everything was very close by!
Halfway I saw a man standing with 'free city walk' so I asked if I could join and I was lucky because they weren't fully booked that day. I had no idea that was even possible!
The walk took us on a two-hour walking tour and the tour guide explained everything about the history of Iceland, which was really interesting. But we didn't see any mayor attractions so after the walk I went back exploring Reykjavik and now I kinda knew my way ;-).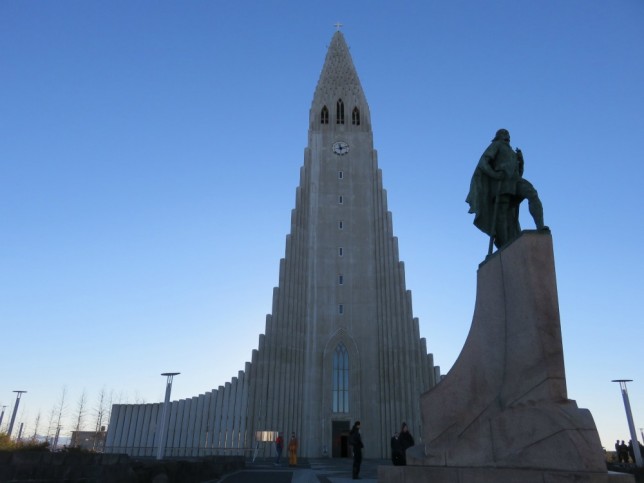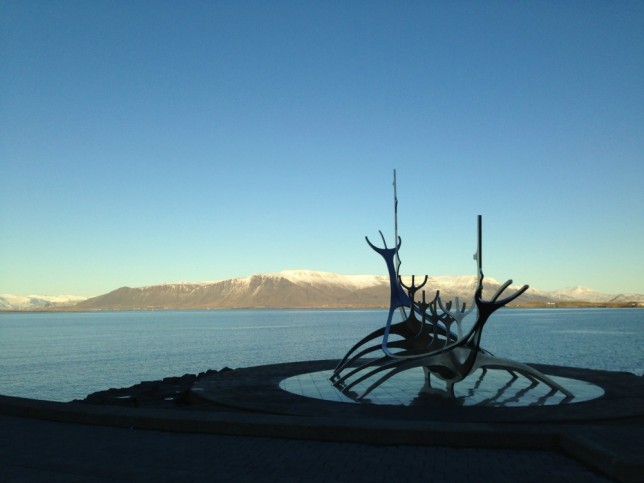 After the walk I had a hotdog at the famous hotdog stand 'Baejarins Beztu Pylsur'.
Don't ask me how to pronounce it! Haha.
And it was delicious!! I have no idea what kind of sauce it was but it was really good.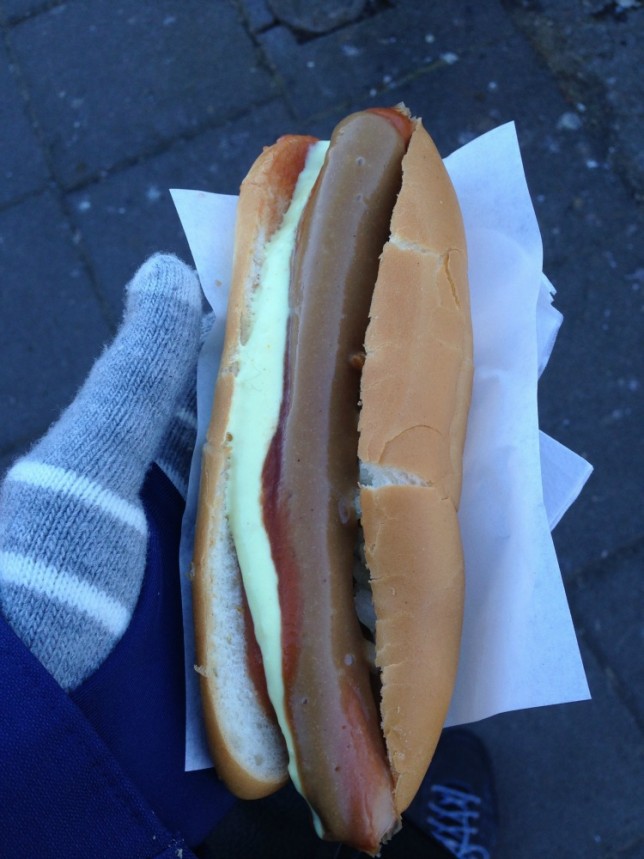 In the evening we went Northern Lights hunting with Time Tours but unfortunately we didn't get to see any lights even though we had clear sky!
So I think I have to go back another time! 😉
Day 3
Today I had the Golden Circle Tour booked with Gray Line. It was a big bus and I was a bit scared that they would rush us but they didn't do that at all! So I was happy.
I do wish we had more time at Þingvellir National Park, but the park is huge so that would have been impossible anyway…
Throughout the ride the tour guide told us all about Iceland and the attractions we were visiting but I was so tired I slept way to much on the bus and that's my problem in general.
I fall a sleep way to easy on a bus/train/car/plane, haha.
During the tour we went to the Þingvellir National Park (here they filmed parts of games of thrones!), saw the beautiful Gullfoss (waterfall), saw an active Geyser, got to meet the Icelandic horses and went to Skálholt (church). I fell asleep during the explanation about the church so I was confused why we were stopping there. Turned out that for 800 years that church was the seat of religious and political power in Iceland. When I was exploring the grounds I walked into this underground door and on the other side there was small museum!

Þingvellir National Park

Þingvellir National Park

Gullfoss

Gullfoss

Geyser

Skálholt

Icelandic Horses
Day 4
Today I did the South Coast Tour with Time Tours. This was a much smaller bus. We were with 6 people in total! So falling a sleep was no option, haha, but I did okay. Only fell asleep ones!
On this tour our first stop was at an information centre just at the bottom of the volcano Eyjafjallajökull that gave so much trouble in 2010. Here we listened to the people who lived right under Eyjafjallajökull. It took by breath away, definitely worth a stop!
Then we were off to see a Glacier. Here we walked on the ice and just had some fun. Ones we were back in the bus it started to pour! So happy with missed the rain! After that we had some lunch at the most Southern town in Iceland, Vík í Mýrdal. Then it was off to Reynisfjara also known as black beach.
After that we went to Skógafoss (waterfall) where you could walk all the way up. I would recommend not doing that when it's raining!
Our last stop was Seljalandsfoss where you can walk behind the waterfall!

Eyjafjallajökull (Volcano)

Glacier

Glacier

Reynisfjara

Reynisfjara

Reynisfjara (sorry, my camera man sucked)

Skógafoss

View on top of Skógafoss

On top of Skógafoss

Seljalandsfoss
Seljalandsfoss
Driving back to Reykjavik we were allowed to sleep. First time we fell asleep the driver woke us up! Haha. He wasn't talking the moment we fell asleep btw 😉
Day 5
On my last day in Iceland I slept in. Walked to Perlan where you have a beautiful view of Reykjavik. After that I wanted to go to a Viking museum but it was an hour walk and I was a bit scared I wouldn't be back on time. So I just explored downtown a bit more.

Perlan
At 2pm I went to the airport and checked in to go to Seattle! They almost didn't let me on the plane because I only booked a one way ticket and the States needed proof that I was leaving the country. Good thing I bought a train ticket to Canada the night before!
After a 7-hour flight and lots of turbulence I arrived save and sound in Seattle.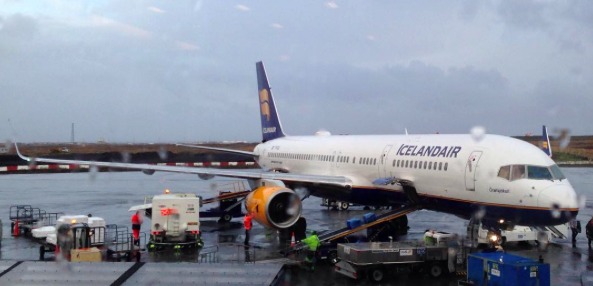 I hope you enjoyed reading about my week in Iceland as much as I did exploring it.
I will try to do this every week but it depends if I have anything to report of course!
See you back soon!
Iceland, Iceland, Iceland, Iceland