In 2013 I finally went to the Stonehenge with my two friends, Saskia and Ryan.
We took a train from Bristol to Salisbury and then a bus to the Stonehenge. It took us about 2 hours to get there but we thought it was worth it.
Ones we got there we bought our ticket, got our audio (£3) and went inside. Apparently these days you have to make a reservation. Make sure to check this out first!
Ones we were inside we took our time, listened to the audio and took pictures. We all thought it was very interesting. If you are wondering why my pictures look so nice and without any people in it is because there is a line around the Stonehenge to protect it. We were also really lucky with the weather that day!

The Stonehenge is a prehistoric monument that is still a mystery till this day. A lot of researcher think it was a burial ground but they also think it has something to do with the movements of the sun. Since 1986 the Stonehenge is a UNESCO World Heritage Site and nearly 1 million people visit the Stonehenge ever year. If you want to read more about its history I would recommend checking out this website.


Being a bit silly

From the other side

Heel Stone
I would recommend getting the audio because you will learn a lot more about the history and theories of the Stonehenge, which makes it more interesting. Otherwise you are just looking at some rocks…

Getting darker
When we got back in Salisbury we went into this weird-looking restaurant but we were so hungry. It turned out to be amazing Lebanese food! I wish I could tell you the name but I forgot, sorry! I remember it was close to the train station. Ones our all satisfied we took the train back to Bristol.
I asked Ryan and Saskia for the name of the restaurant but they also can't remember but they do remember it was really good. 
Some people like the Stonehenge and some people don't.
Have you ever been to the Stonehenge or wanted to visit it? If you did, how did you like it?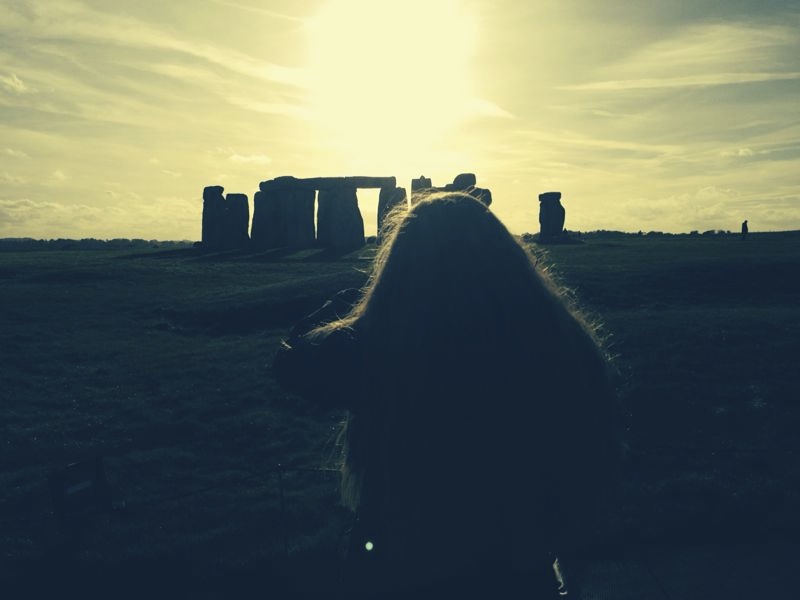 ---
Address: Near Amesbury, Wiltshire SP4 7DE
Phone: +44 (0)370 333 1181
Prices:
– Adult: click here (book in advance!)
– Audio: £3
Opening times: Click here to get the right hours