Fraser Island is considered to be the largest sand island in the world (1840km) and is a World Heritage site since 1992.
Besides that I personally think that Fraser Island is a must do when you are in Australia. You will love it, I promise you!
I booked my whole east coast trip with the UltimateOz in Sydney. I can't remember with which company I did the tour but there are so many you can choose from that you won't have any problem finding one you like.
Check out Dingo Tours I noticed that this tour company is one of the most popular one for backpackers.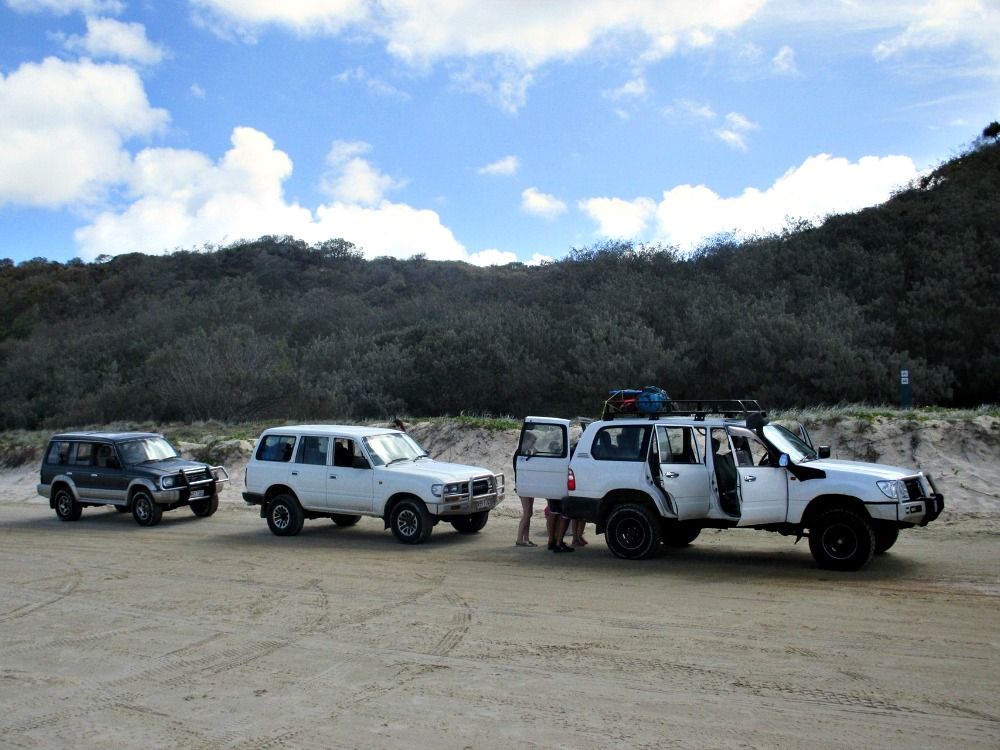 My tour started from Noosa and I stayed 3 days and 2 nights on the island and my night before the tour started was included as well. The evening before we started the tour we all had to watch a safety video because we were going to drive (4WD) by ourselves with our tour guide driving the first car.
The next day they picked us up really early and we headed over to Rainbow Beach where the tour guide divided us in groups. He took the people who weren't allowed to drive in his car and divided the rest of us over the 2 other cars.
Ones everyone was in the car we drove to the ferry and drove on 75 mile beach. Driving on the beach is fun and scary! I was to chicken to drive though, haha.

75 Mile Beach

Car selfie!
Our first stop was the famous Maheno shipwreck. We stopped here and took a couple of pictures before heading to the lookout; Indian head. Then we went to the champagne pools where we took a dip in the water. We also saw a Dingo, Dingo's look cute but those 'dogs' can be mean and eat you! So watch out!
For dinner we had a BBQ and hung out for a bit before heading to bed.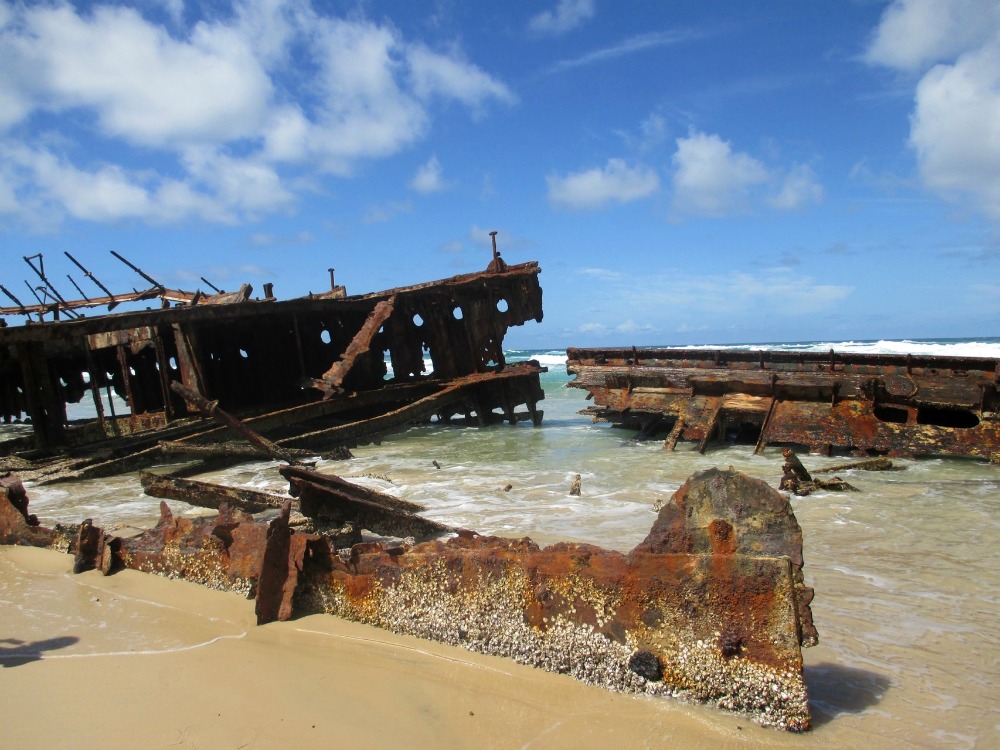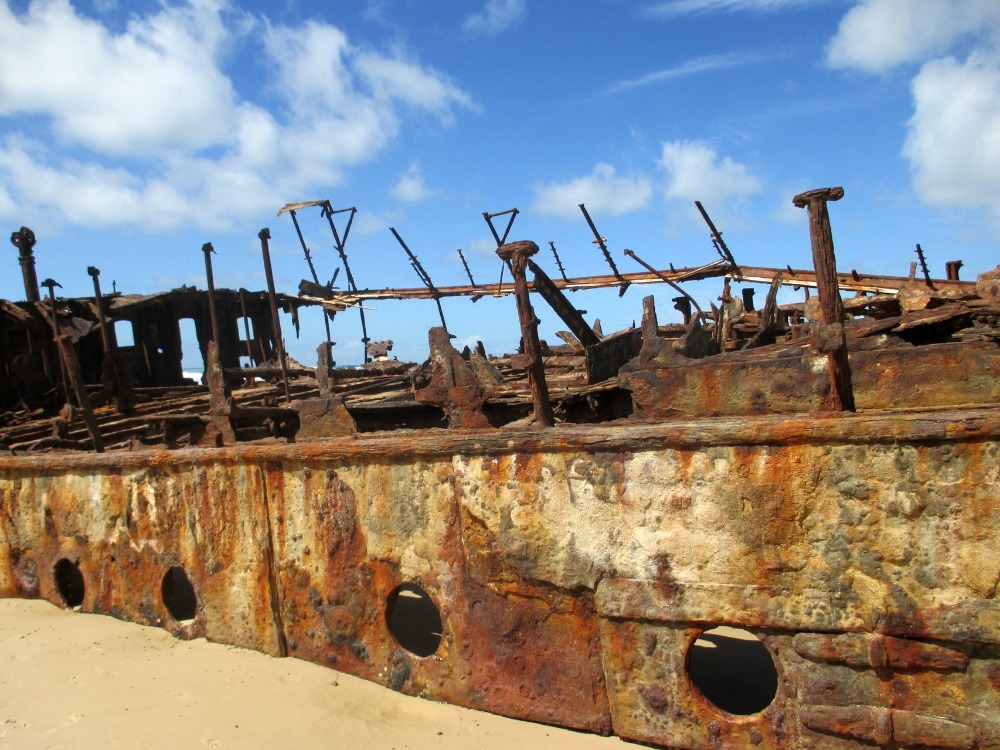 Indian Head

Champagne Pools

Swimming at champagne pools
The next morning we went to Eli Creek. Eli Creek isn't deep but the water would come knee/waist high so we left everything in the car because we had to walk a bit up and then down through the creek back to our cars, so sadly I don't have any pictures of Eli Creek.
After that we had lunch at McKenzie lake. The water in the lake is pure rain water and crystal clear! Here we played volleyball, did a little swimming and just had some fun.
After the lake we went to 'central station' where the people on Fraser Island used to live. We walked around a little and went back to the hostel where we had to make dinner (spaghetti).
On the last day we seen a lot of cars being stuck in the sand. We helped them a couple of times.
We were one of the lucky ones that didn't get stuck! Let's just say we were really proud because the 2 day group got stuck right away.


Lake McKenzie

Part of the walk at Central Station
On our last day we started with a long walk (40 minutes) to Lake Wabby through some woods. After a while we were starting to think that our tour guide tricked us because he stayed behind but then we finally saw the sand and behind that the lake. It's pretty cool though!
Before we had to go back to Noosa we had lunch at a different lake. Sorry forgot the name.
Unfortunately my phone crashed before I could save all my pictures so I lost a lot of pictures from Fraser Island. sniff… so you know what I do now right?! Backup, backup and backup again!

The sand before seeing Lake Wabby

Lake Wabby

Dingo! Looks just like a dog, right?!
Tip!
Make sure you spray yourself with a lot of bug/sand fly spray even when you don't see them because you will get bitten by either mosquitos or sand flies! I got bitten by sand flies and my legs looked nasty for 3 weeks and it itches like crazy!!
Would you explore Fraser Island by yourself or would you prefer a tour like the one I did?