Did you know that Vancouver has two suspension bridges?! Capilano Suspension Bridge vs Lynn Canyon Park
Yep it sure does! But they are completely different from each other though.
When I was in Vancouver earlier this year I did both of them and loved them both but if you can only do one and are not sure which on to choice then read on and hopefully you have made a decision after this post. 🙂

Capilano Suspension Bridge vs Lynn Canyon Park
The Capilano Suspension Bridge
The Capilano Suspension Bridge is probably the most well-known suspension bridge in Vancouver and it is also only 8,9km from downtown Vancouver.
They offer a free shuttle bus  to the suspension bridge, which makes getting there so much easier!
A plus on taking the bus you will get a little sightseeing tour of your bus driver. He/She will tell you little things about Vancouver and the places you pass and if you liked that you can give him/her a tip when you arrive at the Capilano Suspension Bridge. I still have to get use to all the tipping in Canada and the USA.
Ones you paid the entrée fee you can read all about the history of the Capilano Suspension Bridge and see some totems. Ones you see the souvenir shop you will also see the suspension bridge on your left. Did you know?! The bridge is 140m (460 ft) long and 70m (230 ft) high and has been open since 1889!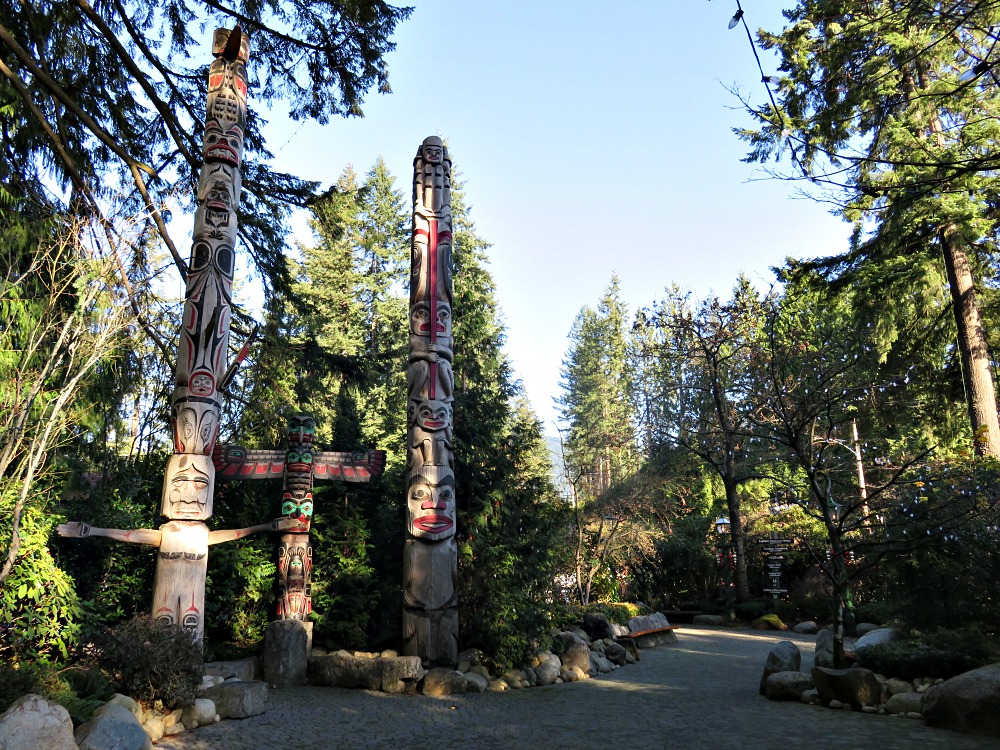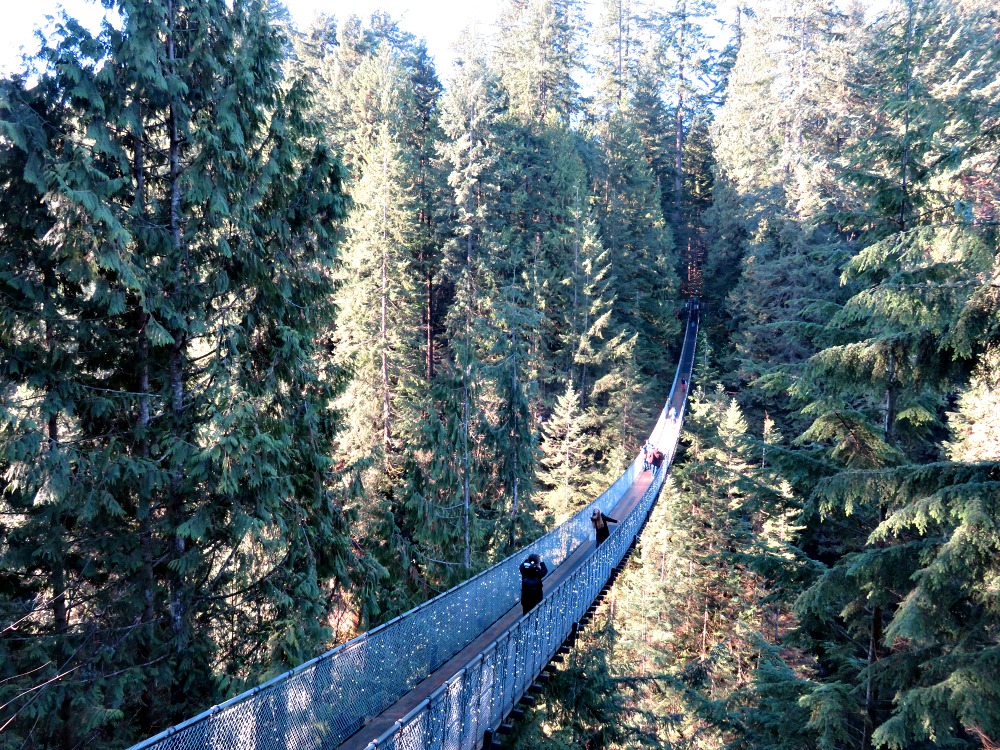 Ones you reach the other side of the bridge you can do the Nature's Edge Boardwalk, grab a drink and/or food and do the Treetops Adventure which takes guests 100 feet above the ground into the coastal rainforest on seven suspension bridges attached to old-growth trees. It's pretty cool to do.
They also offer an interactive self-guided tour for kids and for the adults a guided history and nature tours.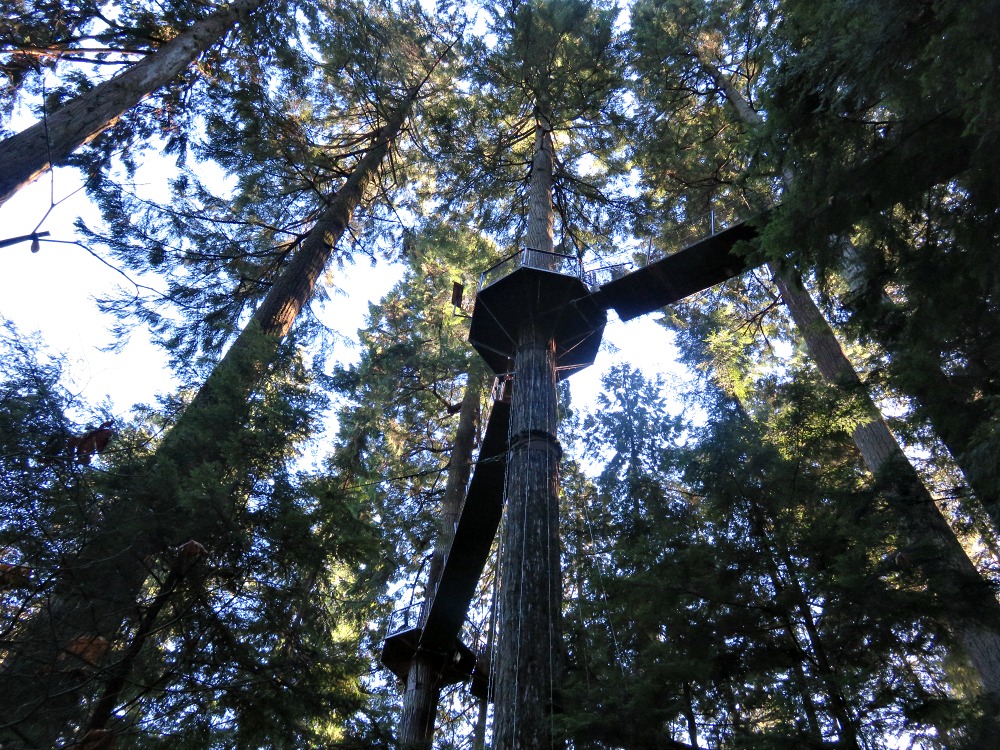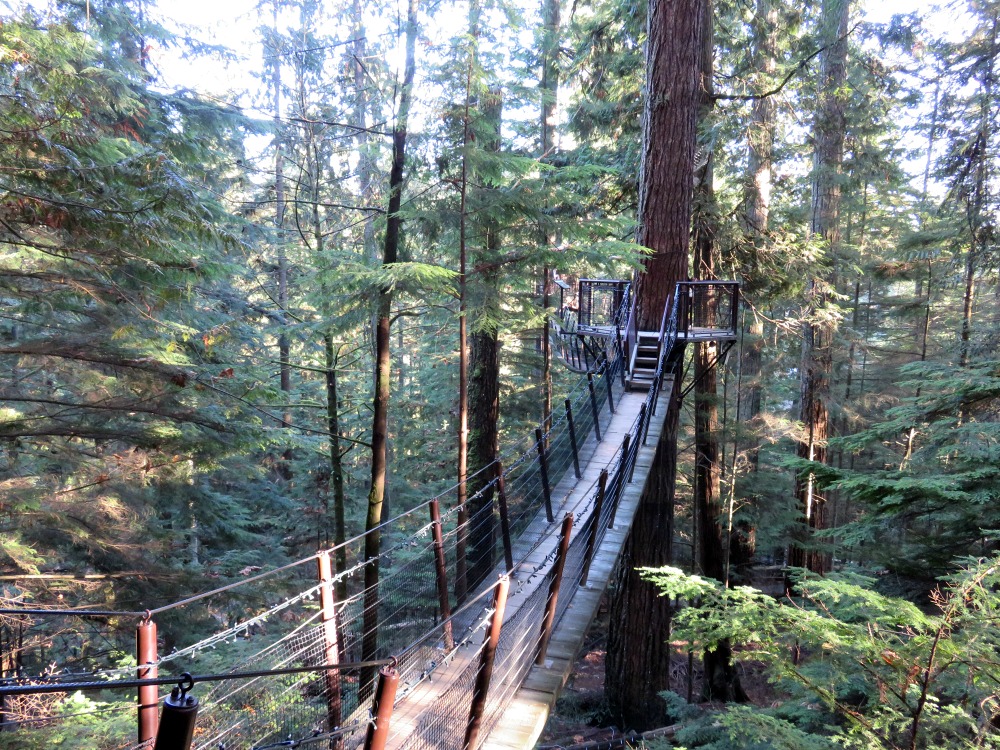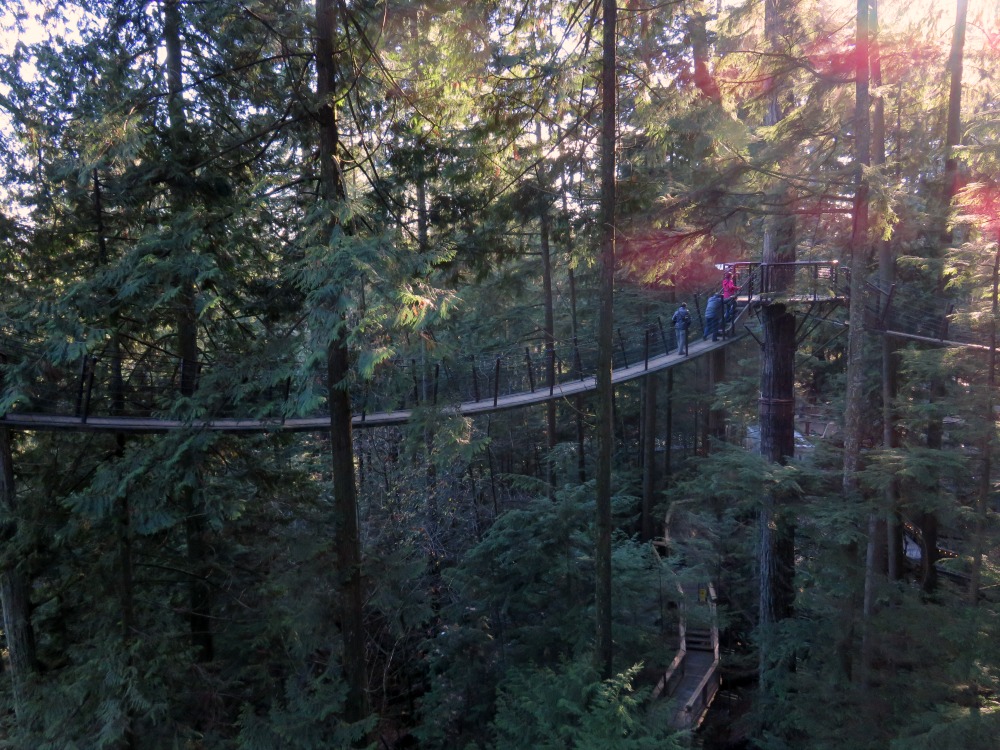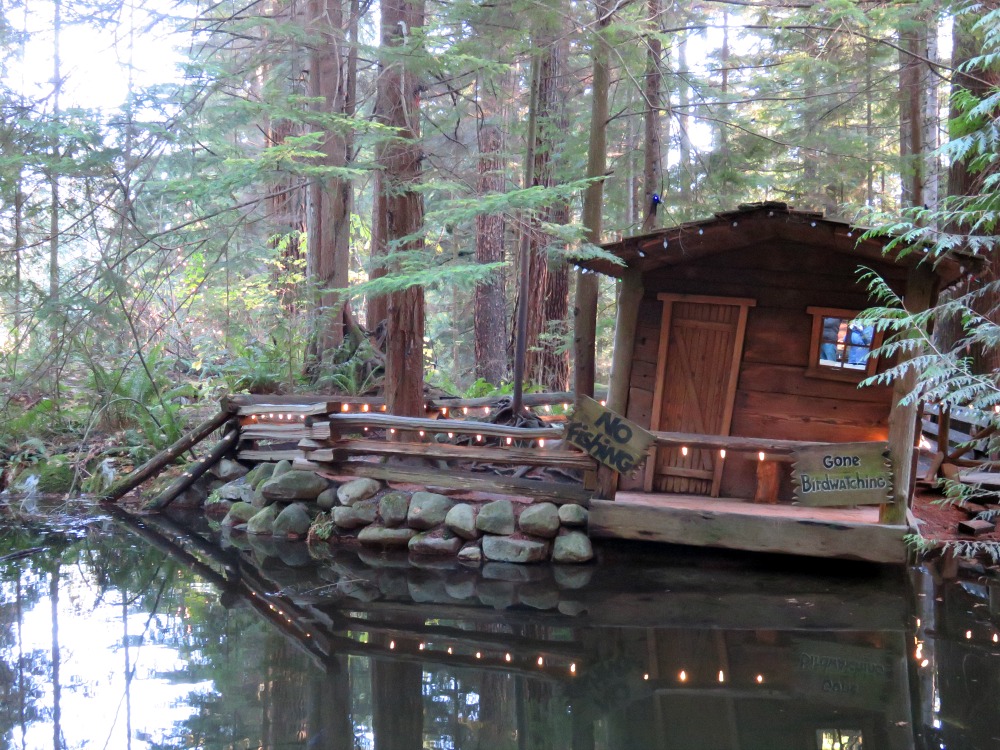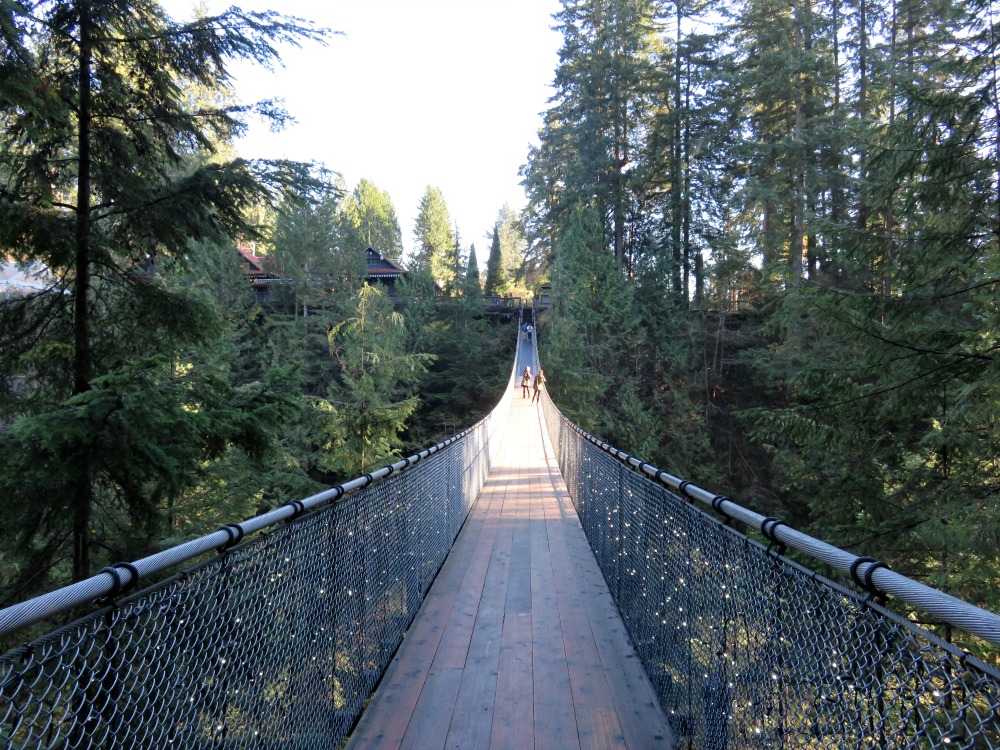 When you are done with exploring the park you have to cross the bridge again to go back. When you crossed the bridge back again you will see the Cliffwalk on your left. The Cliffwalk opened in 2011 and is 90 metres (300 feet) high, so much higher than the suspension bridge!
I had no problem crossing the Cliffwalk but I did see a couple of people having trouble crossing it and even going back.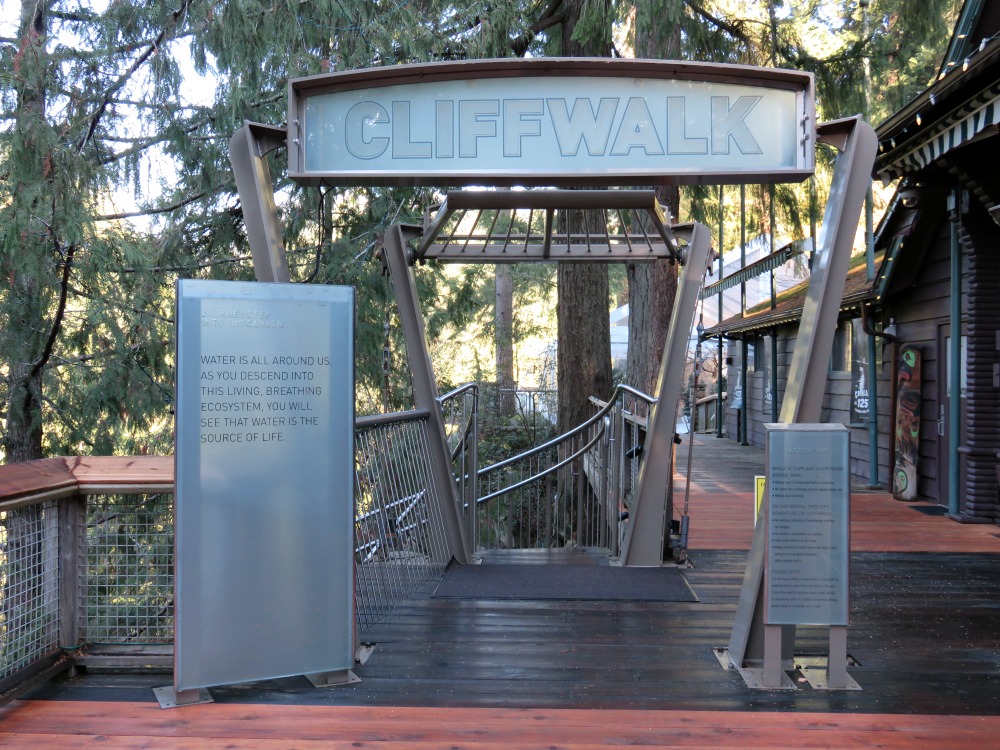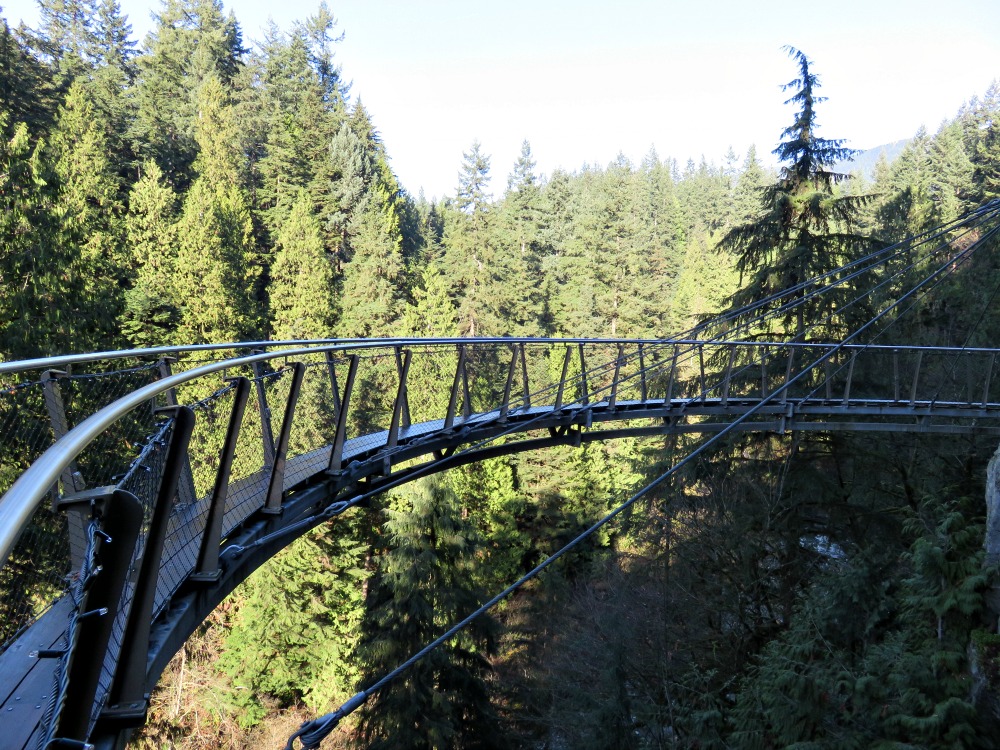 Every year they celebrate the Canyon Lights, this year from 24/11/2016 till 8/1/2017, this means that they decorate the whole park with lights! It's pretty cool to see. I did this last year, a must see!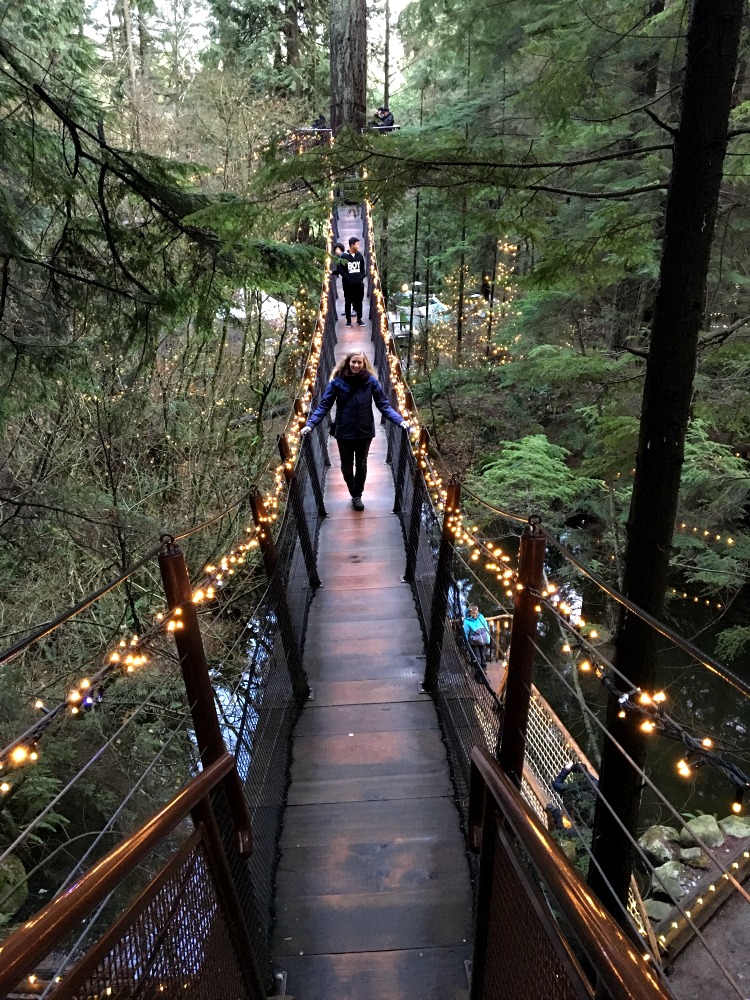 Where: Capilano Suspension Bridge, 3735 Capilano Rd, North Vancouver, BC V7R 4J1.
Free shuttle bus from downtown.
When: for full year schedule click here (Closed December 25). 
Price: Adult: $39.95. For more prices click here
Website: https://www.capbridge.com
---
Lynn Canyon Park
Lynn Canyon Park is 16km located North of Vancouver and a bit harder to get to because they don't offer a free shuttle bus. It is possible to get there with the bus but it just takes you a bit lover to get there.
Lynn Canyon Park is very different from the Capilano Suspension Bridge. First of all Lynn Canyon Park is free! This means you will see much more local people and isn't commercialised at all!
There is a suspension bridge but this one is a lot shorter, around 40 metres (130 ft) and 'only' 50m (160 ft) high, then the one at Capilano.
When it's summer you can take a dip but please be careful! You will see a lot of people jumping of cliffs but I wouldn't recommend it because of the strong currents and all.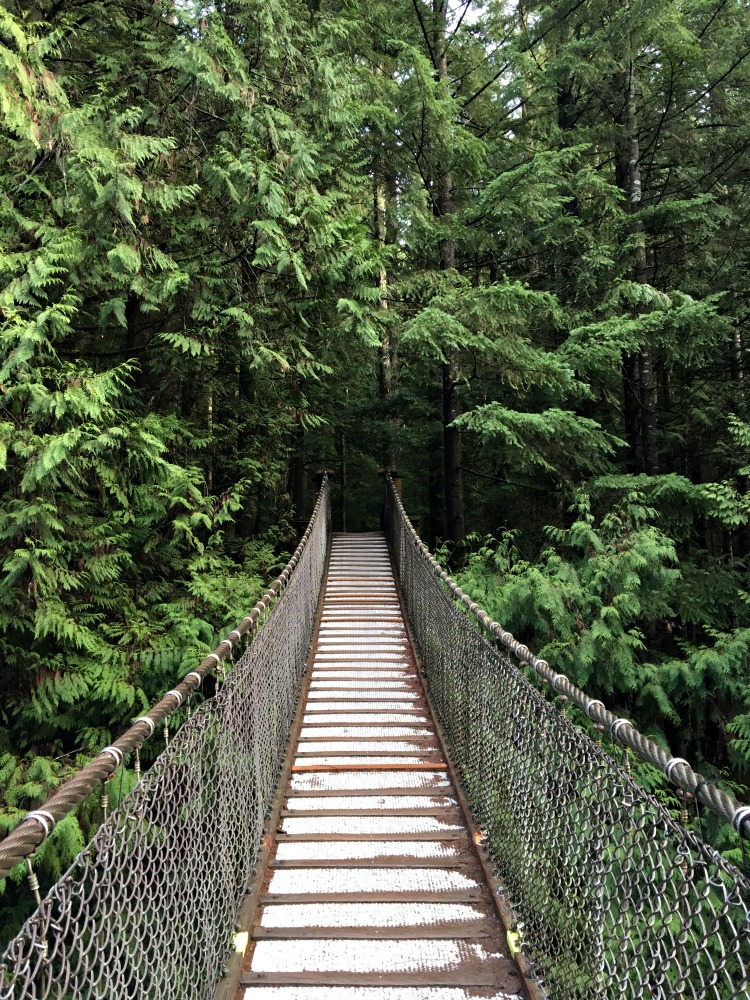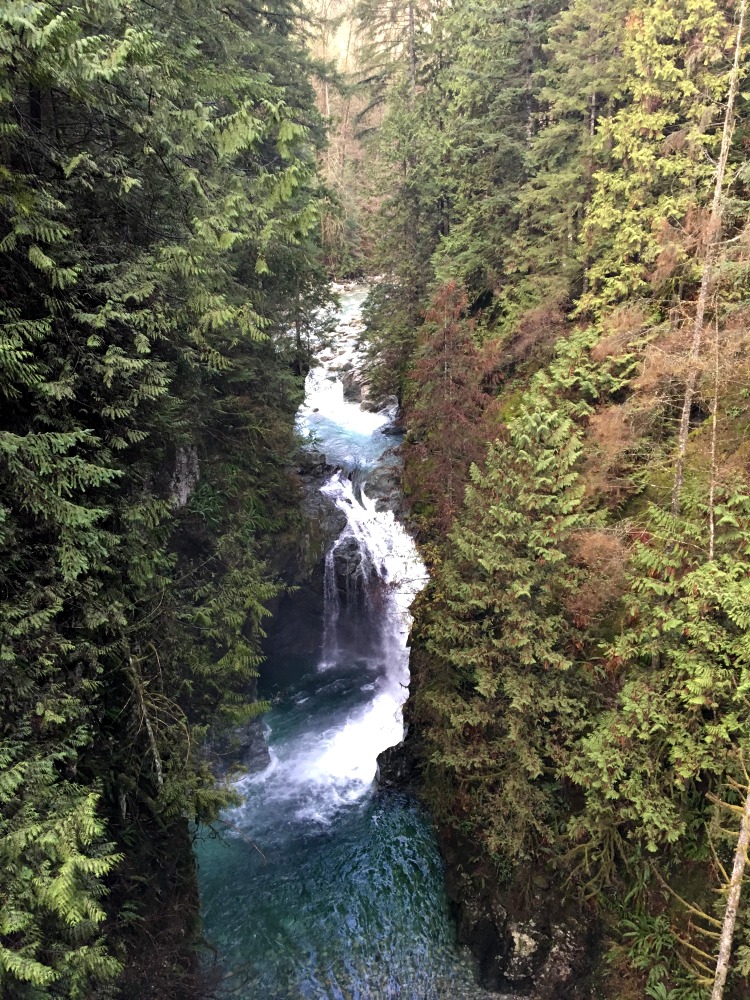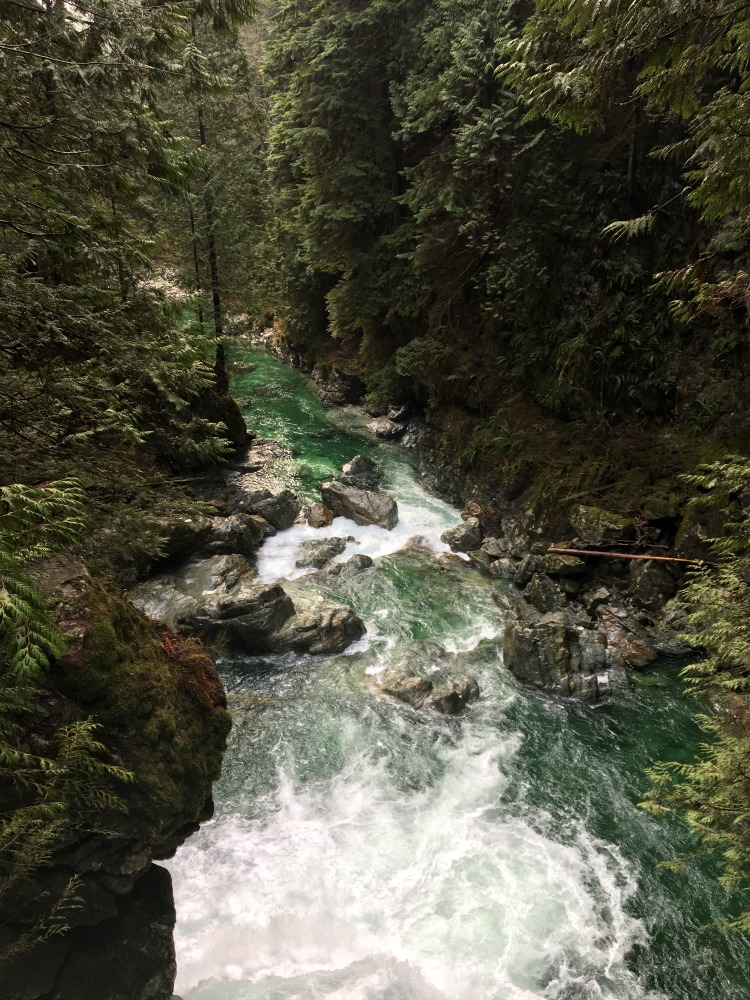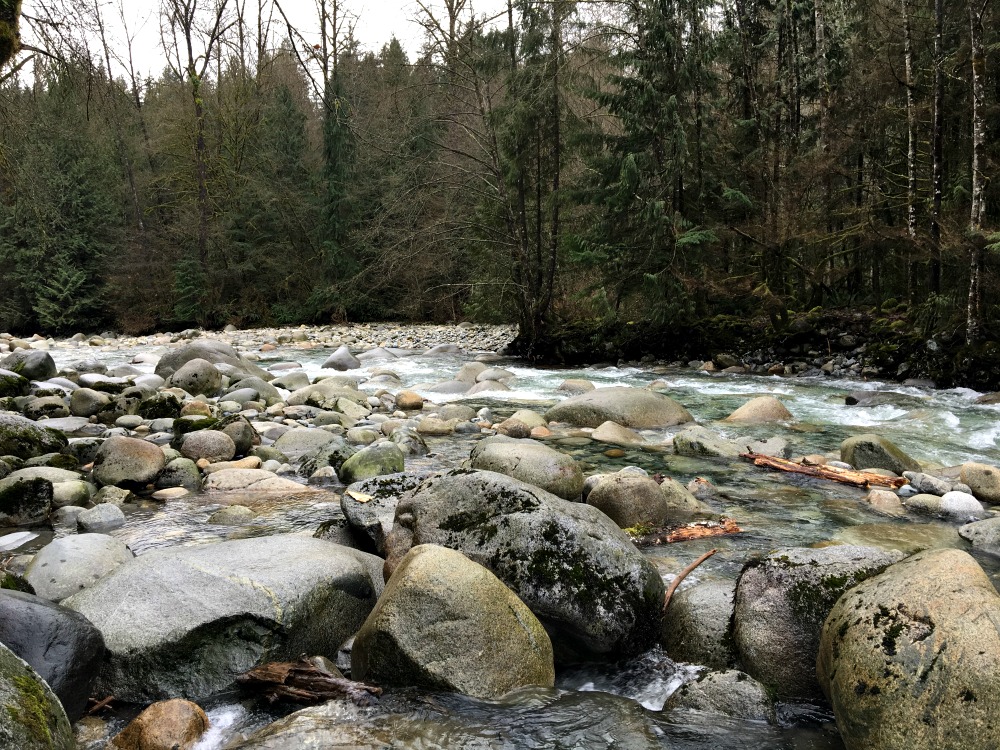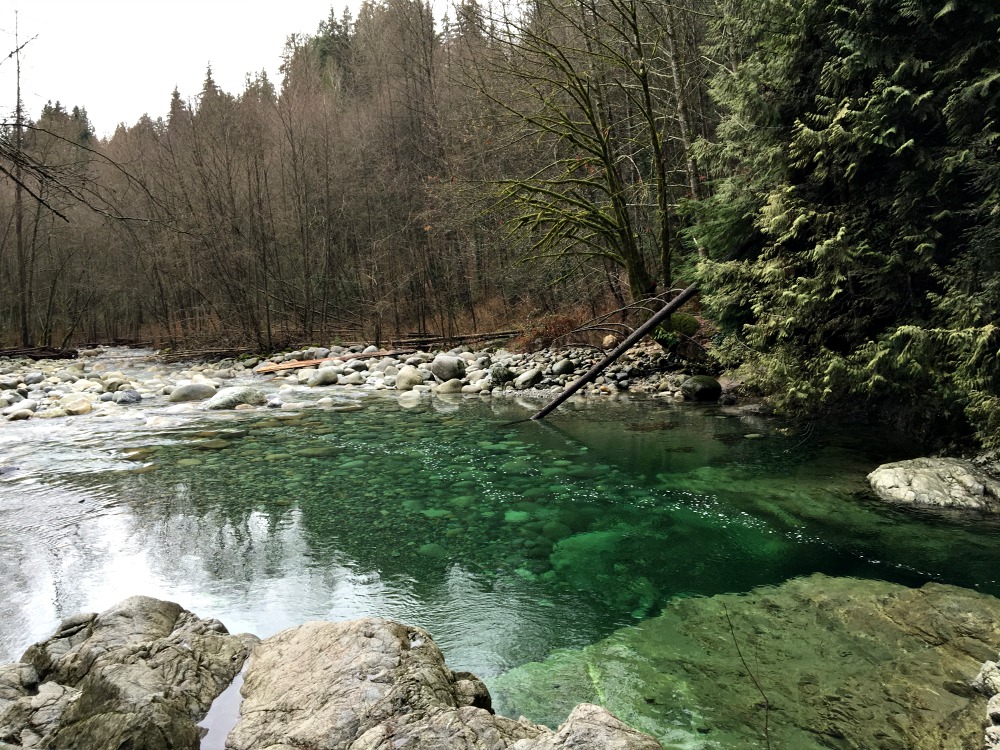 The park is surrounded with boardwalk and trails so it is a perfect place to go on a hike!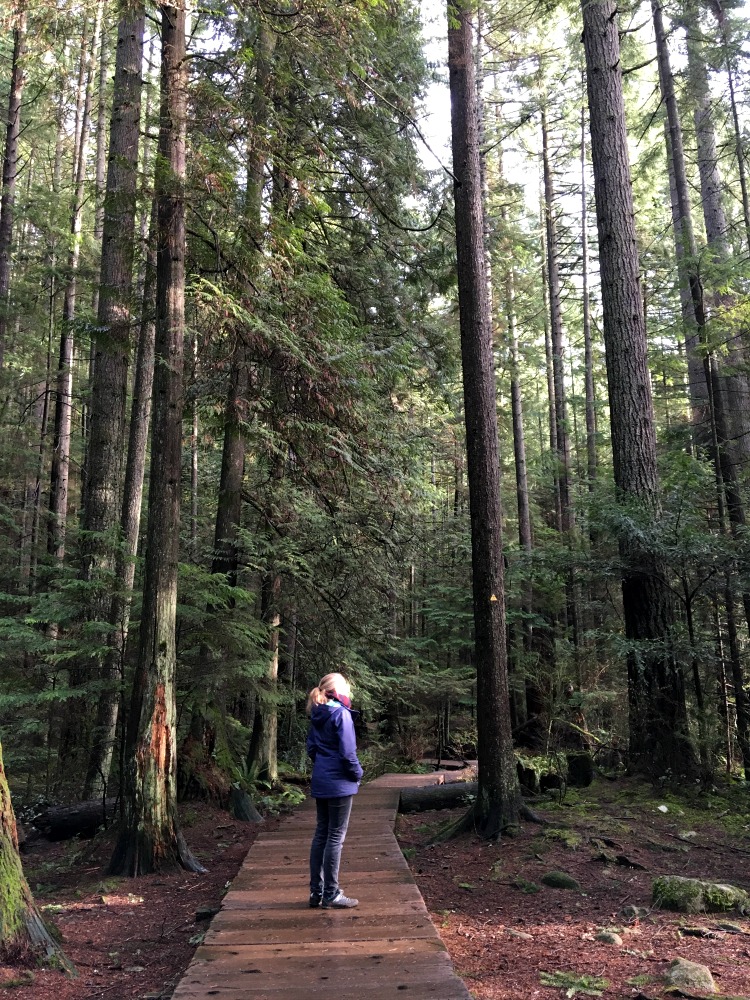 Fun fact: If you are lucky you can see a filming crew because this is a beautiful and popular place to film.
Where: 3663 Park Rd, North Vancouver, BC V7J 3G3
When: June to September: 10 am to 5 pm/October to May: 12pm to 4 pm
(Closed Christmas Day, Boxing Day and New Year's Day)
Price: FREE Capilano Suspension Bridge vs Lynn Canyon Park
Website: http://lynncanyon.ca
---
I have done both suspension bridges and it is hard to choose which one I liked the most. I didn't really like the fact that the Capilano Suspension Bridge was so commercialized. You couldn't really hike there but the lights were oh so beautiful! And the bridge was pretty cool though.
The huge perk of Lynn Canyon is that the park is free and if you want to cool off in the summer this is the perfect place. Getting there just takes a bit to long.
Which suspension bridge would you prefer and why?

Capilano Suspension Bridge vs Lynn Canyon Park